Pupils at schools with cases of streptococcus A could get preventative antibiotics after nine children died from infections linked to the bacteria.
Schools minister Nick Gibb said the use of antibiotics "is an option" and the issue had been raised in the House of Lords on Monday.
The authorities are working closely with the school.
Updated UK guidance on scarlet fever outbreaks (which are caused by strep A) in October, says antibiotics can be used to help stop new cases of strep A in settings such as schools but a decision should be taken with local outbreak-control teams on "a case-by-case basis".
Adam Finn, professor of paediatrics at the University of Bristol, told BBC News the bar for treatment may now be lowered.
"The standard guidelines are that you wait for two cases in an institution like schools before you go out with antibiotics… but given the number of cases and the concerns that obviously exist at the moment, those guidelines may well be adjusted and we may see more broad antibiotic use."
Mr Gibb told GB News: "Lord Markham said in the House of Lords yesterday that the UK Health and Security Agency are monitoring the position and are considering those kind of issues in those schools where there is an infection.
"This is an ongoing situation, the UKHSA are involved very closely with those schools and they will be providing further advice later on.
"But that may well be an option for those particular schools where there is an infection."
Meanwhile, health minister Maria Caulfield has said there is "no shortage of antibiotics" to deal with the rise in strep A infections.
She said: "We want to reassure parents if their children do have symptoms and they are concerned to seek help. GPs are ready, A&E departments are ready, and also we have directors of public health proactively going into schools where there are cases.
"There is no shortage of antibiotics, we want to reassure people of that, and we are keeping an eye on that on a daily basis.".
Bacteria circulating
Health experts say parents and doctors need to be vigilant and alert to the symptoms of infection.
And the UK must brace itself for more cases, as levels of the bacteria circulating are higher than usual for this time of year.
An early start to the strep A season in the UK could be a side-effect of the easing of pandemic restrictions and people mixing more means infections can be transmitted.
For scarlet fever, for example, in the week of the 14 to 20 November this year there were 851 cases reported – a rise compared to the average of 186 cases seen in recent years.
Strep A can cause a range of illnesses.
Most cases are mild – a sore throat or skin infection easily treated with antibiotics.
Some people develop scarlet fever, which causes a skin rash that feels like sandpaper, and flu-like symptoms including a high temperature.
Very rarely, strep A can cause invasive group-A streptococcal infection (iGAS), which can be deadly.
Invasive disease happens when the bacteria breaches the body's immune defences.
fever – a temperature above 38C
severe muscle aches
Urgent early medical help is essential.


What should parents do?
Trust your judgement if your child seems seriously unwell
Contact your local surgery if they:
are deteriorating
are eating much less than normal
show signs of dehydration, such as a dry nappy for 12 hours
have a temperature of 39C or higher, or 38C if under three months
are a baby and feel hotter than usual when you touch their back or chest or sweaty
are very tired or irritable
Call 999 or go to an accident-and emergency unit if:
they are having difficulty breathing – you may notice grunting noises or their stomach sucking under their ribs
they are pausing when they breathe
their skin, tongue or lips are blue
they are floppy and will not wake up or stay awake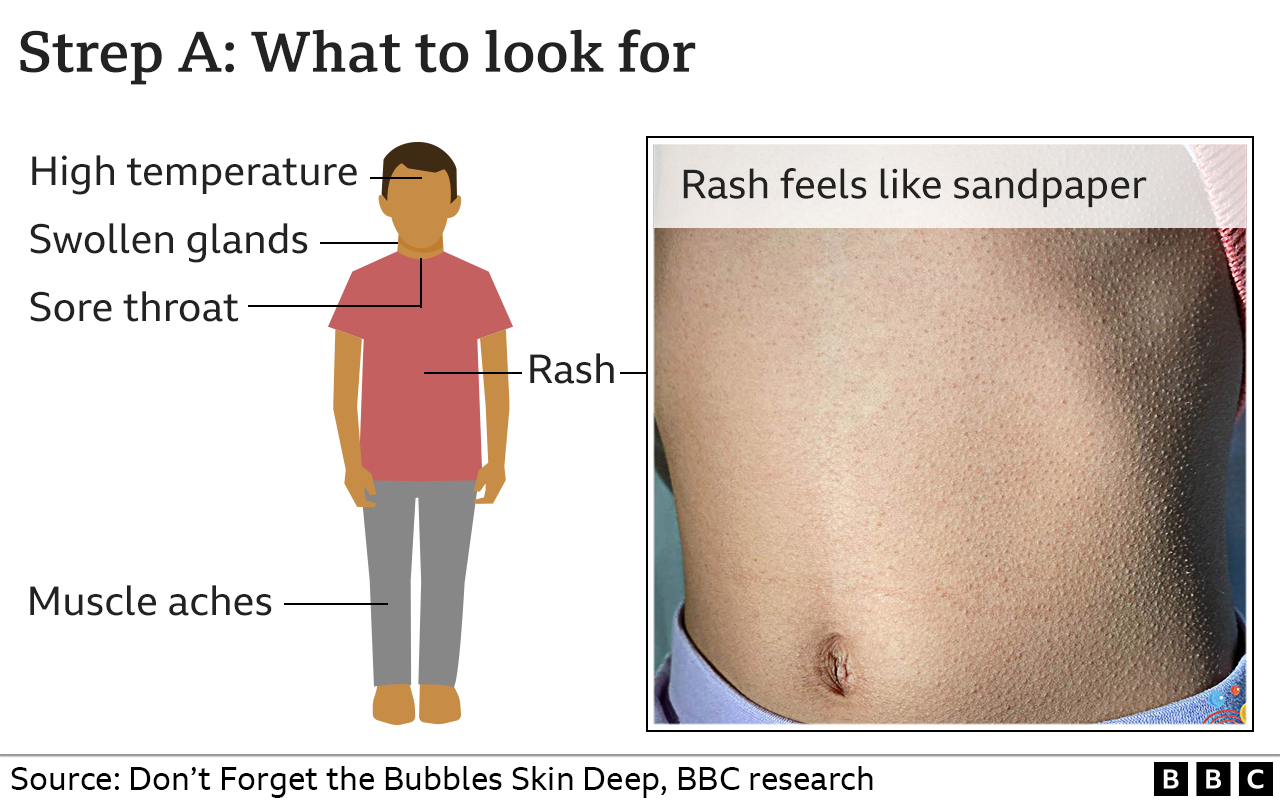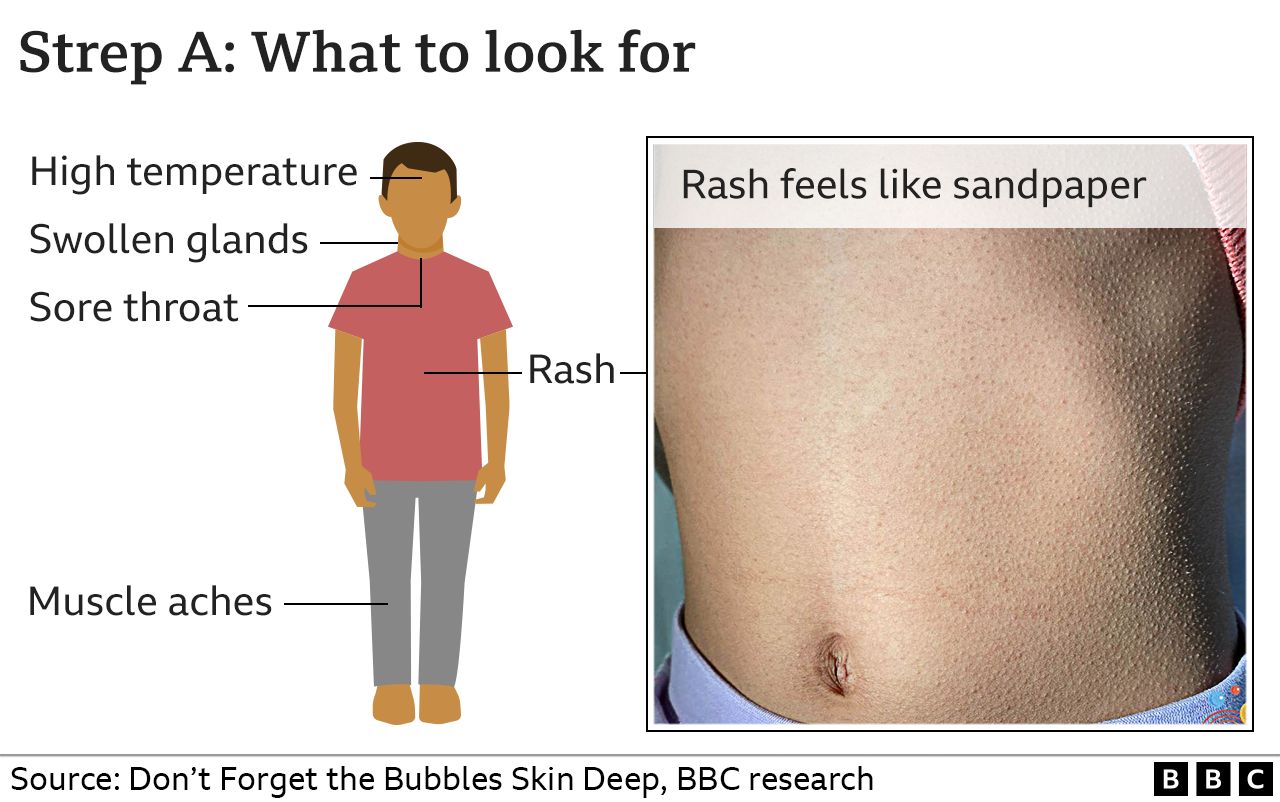 TIOB News