Parents are still paying "alarming amounts" for school uniforms, despite rules meant to lower the costs, a charity has warned.
The Children's Society claims parents spend on average £422 a year on secondary and £287 on primary uniforms, with branded items costing more.
One mum told the BBC parents on her school WhatsApp group were forgoing holidays because of the expense.
The government said it was working to ensure "uniform costs are reasonable".
Meanwhile, the Schoolwear Association, which represents retailers, said not all items of uniform were replaced every year and shops offered families "good value".
Mum-of-two Lorraine from Ruislip said parents she knew said they "can't go on holiday because of the cost of uniform, and that is not right."
The Children's Society said some school rules that required parents to buy costlier branded items were partly to blame for driving the cost up.
Lorraine said: "Out of nine items of school uniform and PE kit on the list, only one item – the school shirt – can be bought independently. All others are either branded or have to be bought from a specific supplier…It has to change."
The Children's Society polled 2,000 parents across the UK in May about their annual uniform costs.
It claimed parents of secondary school children faced the highest expenses for various clothing items, including:
Coats and bags averaging £75 per child annually
Sports shoes and boots for PE amounting to an average £63 per child per year
School shoes coming in at £62
Blazers costing £46
Skirts and dresses costing £46
Jumpers and ties amounting to £40.
The Schoolwear Association said cheaper options were available, and some clothing and footwear could be worn inside and outside of school, meaning they should not be strictly classed as "uniform".
Under changes to the Education Act last year, schools in England are meant to be helping cut costs for parents. That could be by promoting cheaper second-hand uniform options or removing unnecessary branded items from their uniform lists.
However, the Children's Society found pupils were still expected to have an average of three branded items of uniform, while almost a third of secondary school pupils are required to own four to five branded items.
In addition, 45% of parents reported that their school uniform policies had still not been updated.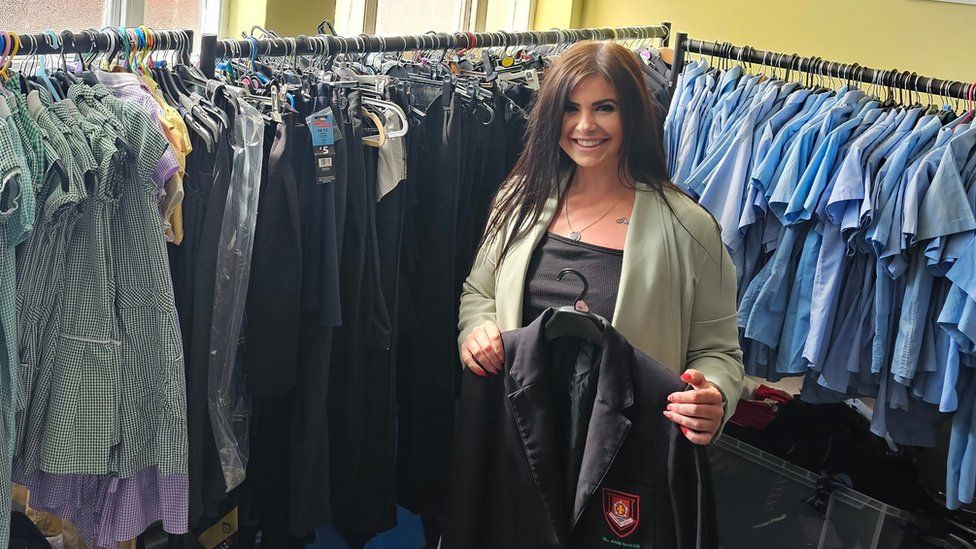 Natalie runs the Reloved Clothing bank in Hartlepool, providing pre-worn uniforms free to people struggling with the costs.
Since its launch 11 months ago it has supported more than 3,000 families and demand is "only getting bigger" as the cost of living soars.
"A lot of people find the cost of uniforms a barrier to education," she told the BBC.
"If a child goes in and they don't have that uniform, it creates stigma. So for me as a parent to alleviate that stigma is a big thing."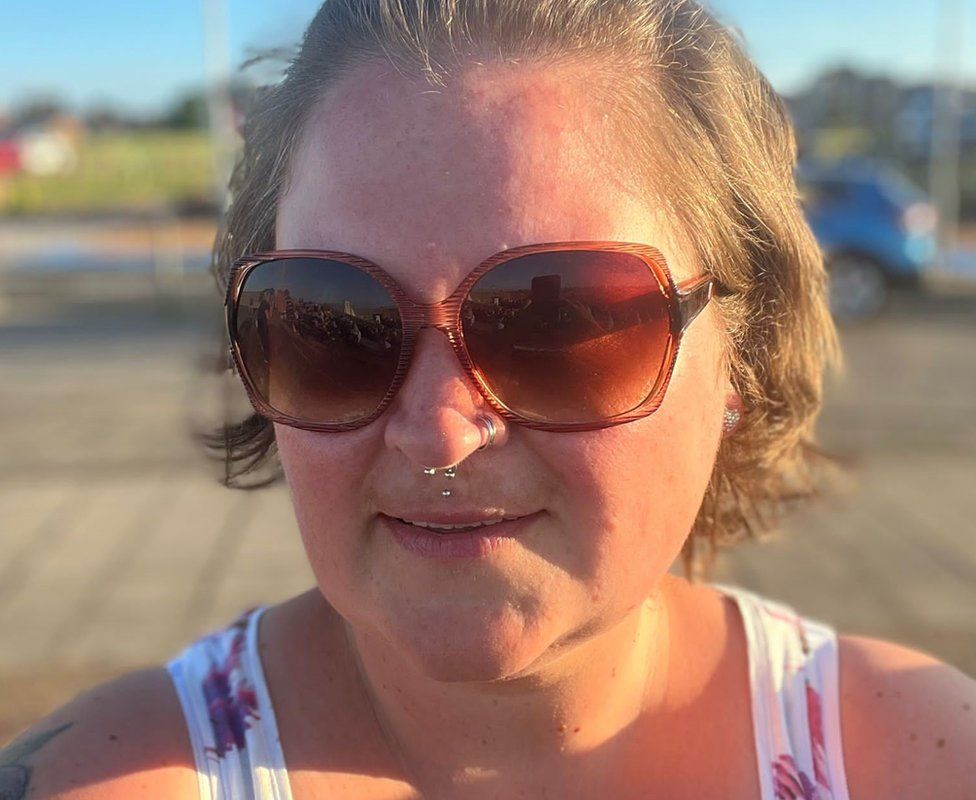 Kirsty, 38, who has used the uniform bank for her eight-year-old son, said it has been a massive help.
"There are a lot of things going up, and the price of uniforms definitely adds to it," she told the BBC.
She said constantly replacing damaged uniforms made it even more expensive.
"People who have more than one child, their costs are going to be even higher," she added.
Mark Russell, chief executive of The Children's Society, said it was "alarming" that parents were still having to spend "exorbitant" amounts on school uniforms.
"With inflation and the cost of living eating into family budgets, we are disappointed that the affordability of school uniforms remains a significant financial burden for many families.
"While some schools have made commendable changes to reduce costs, this positive trend is still not widespread enough. We urge parents who struggle with the affordability of school uniforms to contact the school and the school governors," Mr Russell said.
Back in 2020 the charity found that parents of secondary school pupils were spending significantly less on uniform, at £337 a year on average. Parents of primary schools kids were spending slightly more, at £315.
Not being able to afford the right school uniform could affect children's wellbeing, the charity warned.
In its latest survey, a fifth of parents reported their child had been put in detention for breaking uniform rules due to being unable to afford the right clothing.
One in eight had been placed in isolation, while some had even been excluded.
Mike Amesbury, the Labour MP who introduced the Private Member's Bill on school uniform costs that became law, said the rules on branded items were not clear enough and urged the government to do more.
Categories:
Uncategorised