---
Date: January 12, 2023
Time: 11:00 – 12:00
Cost: Member Rate – £65, Non-member Rate – £130
Audience: House parents, anyone looking for a senior leadership post in a boarding school 
Platform: Zoom (online) – webinar
---
Course outline:
This webinar aims to give an overview of the processes involved in getting a promotion to Deputy Head and Headship.
The New Year is upon us and we have taken a stock take of where we are.
The desire to take on new responsibilities and create new challenges to grow your career is there. The webinar introduces a Head and Vice Principal who will discuss how to create a skill set for promotion, how to identify what areas you would like to focus upon and what challenges you will meet on the way.
Topics will include:
Review and identify your key skills
Reflect and develop areas in your professional tool kit
Develop clarity on what is expected of a senior leader in a boarding school.
Learning Outcomes:
Understand the characteristics of excellent senior leadership
Learn about the application, interview and recruitment process
Understand how to make an effective transition from a middle leadership role to a senior leader.
---
Speaker: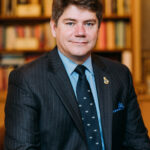 Mark Lauder, Headmaster, Strathallan School
Mark Lauder was born in Scotland and educated at Hermitage Academy in Helensburgh. He studied at the University of Aberdeen, before moving to St Edmund Hall, Oxford, where he became Junior Dean of College. He began his teaching career at Shiplake College in Henley-on-Thames, where he was Head of the History Department, Resident Tutor and Master I/C of Rowing. He then headed back to Oxford in 1999, to become Head of History at St Edward's School and then a Housemaster. While there, he continued with his rugby refereeing, coaching U16s rugby and U15s rowing, and ran the naval section of the CCF.
In 2007, Mark was appointed Deputy Headmaster and Head of Boarding at Felsted School in Essex, where he maintained his coaching and teaching roles. It was from there, in 2010, that he headed north, to take on the role of Headmaster at Ashville College in Harrogate, an HMC co-educational day and boarding school with 870 pupils. He has been an ISI team inspector, a school governor and Chair of the Boarding School's Association and is now in his seventh year as Headmaster of Strathallan School.
Mark is married to music teacher Caroline, and has two sons, both now at university. In his spare time, he enjoys wild camping in the Scottish islands and walking in the hills.